Are you tired of getting stuck on the side of the road with a flat tire and no way to inflate it? Do you want to feel confident that you can handle any tire emergency that comes your way? Look no further than a portable car air pump. With its lightweight and convenient design, a portable air pump is the perfect solution to keep in your vehicle at all times.
What is a portable car air pump?
A portable car air pump is a compact, handheld device that allows you to inflate your tires wherever you are. Whether you're out on a road trip, camping in the wilderness, or simply driving around town, a portable air pump ensures that you are always prepared for a flat tire emergency. These devices are typically powered by your vehicle's cigarette lighter or a rechargeable battery, making them incredibly convenient and easy to use.
How does a portable car air pump work?
Using a portable car air pump is incredibly straightforward. First, you need to connect the device to your tire's valve using the appropriate attachment. The attachments are usually included with the pump and are designed to fit a variety of valve types. Once connected, you can turn on the pump and monitor the tire pressure using the built-in pressure gauge.
It's important to note that different vehicles require different tire pressures, so you should always consult your vehicle's manual or the tire sidewall for the recommended pressure. Once you've reached the desired pressure, simply turn off the pump, disconnect it from the valve, and you're good to go.
Recommended powkey car starter power supply H11, 25000mAh large capacity, four charging modes, can be used for car, motorbike, bicycle, basketball charging.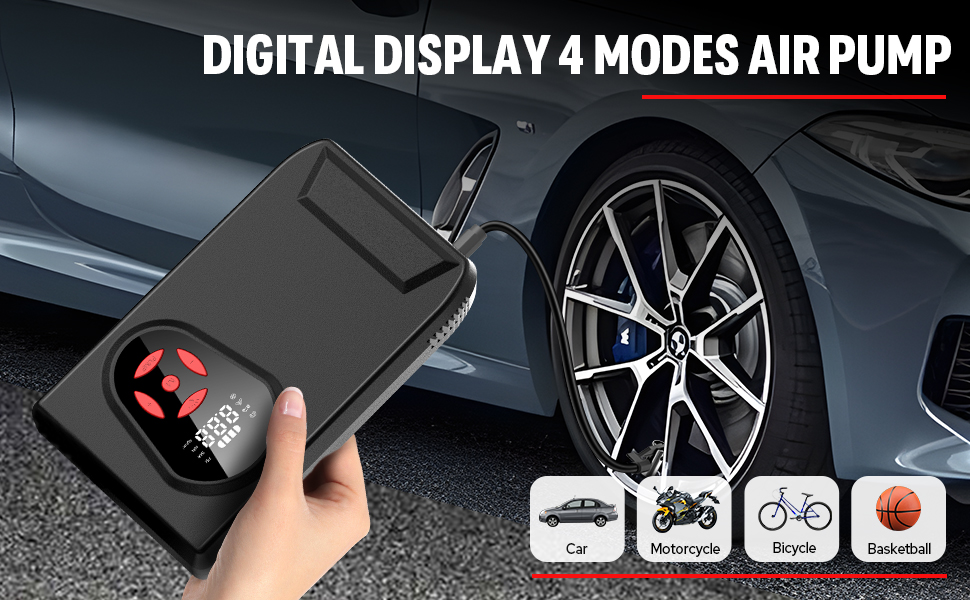 Quick and Efficient Inflation
With advancements in technology, portable air pumps can inflate your tire in a matter of minutes. They feature powerful motors that can provide a high volume of air flow, allowing for quick and efficient inflation. This means that you spend less time on the side of the road and more time getting to your destination.
Built-in Safety Features
Safety is paramount when it comes to handling a flat tire. Portable car air pumps are designed with built-in safety features to protect both you and your vehicle. These features may include automatic shut-off functionality to prevent overinflating your tire, LED lights for improved visibility in low light conditions, and overheating protection to prevent damage to the pump.
Conclusion: Invest in Your Peace of Mind
A portable car air pump is a must-have tool for every driver. Its lightweight and compact design, quick and efficient inflation capabilities, versatile power options, and built-in safety features make it an invaluable asset in case of a flat tire emergency. Don't wait until you find yourself stranded on the side of the road. Invest in a portable car air pump today and ensure that you're always ready to handle any tire-related mishap with ease and confidence.