With the advent of the intelligent and information age, the demand for electricity has greatly increased. In order to alleviate the pressure of environmental pollution, energy consumption, etc., the world is looking for green power generation methods, and people are looking forward to photovoltaic power generation. With the advantages of policy support and photovoltaic energy storage to reduce power generation costs, household photovoltaic power generation and energy storage systems are gradually entering thousands of households.
What is a Home Energy Storage System?
The smart home energy storage system is similar to a micro energy storage power station, and its operation is not affected by the pressure of the city's power supply. During the off-peak time of electricity consumption, the lithium-ion battery pack in the home energy storage system can charge itself for backup power peak or power outage. In addition to being used as an emergency power supply, the smart home energy storage system can also save household electricity costs because it can balance the electricity load.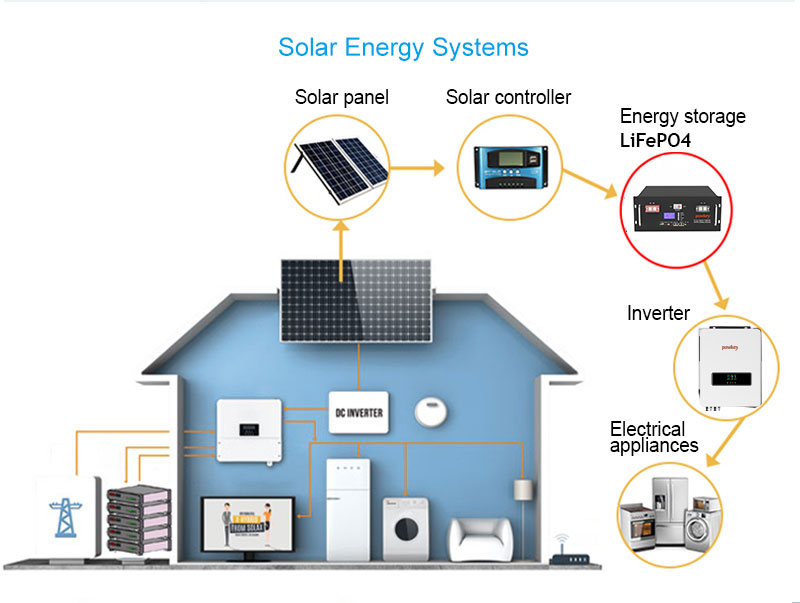 The home energy storage system uses solar power generation devices on the roof, household wind generators to generate energy, and low-cost power sources in the social power supply system to store affluent electricity in the energy storage system for use during peak hours. It can not only be used as an emergency power supply, It can save electricity expenses for the family. In addition to being used for home use, it can also be used for field operations, emergency power outages, and for general household appliances, computers, lighting, communication equipment, etc.
With the continuous development of the "Million Solar Roofs Project" in the United States and the "Energy Transformation" in Germany, household energy storage systems, especially the government's high subsidies for private use of photovoltaic power, have enabled most people to achieve self-sufficiency in household electricity. The ability to store excess electricity has led to the rise of the home energy storage market in Germany and even Europe.
Survey on the status quo of household energy storage system industry
The global household energy storage market size in 2020 is 7.5 billion U.S. dollars, and the Chinese market is 1.337 billion U.S. dollars, equivalent to 8.651 billion yuan. In 2027, it is expected to reach 26.4 billion U.S. dollars and 4.6 billion U.S. dollars respectively. Smart home energy storage system mainly refers to the energy storage system installed on residential buildings. Its operation mode includes independent operation, supporting operation with small wind turbines, rooftop photovoltaic and other renewable energy power generation equipment, and household heat storage equipment. Smart home energy storage system Applications include: electricity bill management, electricity cost control, power supply reliability, access to distributed renewable energy, and electric vehicle energy storage applications.
From the fourth quarter of 2018 to the third quarter of 2020, Germany has achieved quarter-on-quarter growth in the installation of household energy storage systems for eight consecutive quarters. Shipments in the first three quarters of 2020 exceeded 90,000 units with a capacity of nearly 850MWh, compared to 85,000 units with a capacity of 741MWh for all of 2019.
In order to effectively use energy and save household electricity expenses, an inventor from San Diego, California has created a home energy storage system, which is divided into two types: vertical and wall-mounted, which can be used for the current peak and valley calculations in the city. Fees are very helpful, using low-peak periods for energy storage, and supplying them to household appliances during peak periods.
Home energy storage systems are currently divided into two types, one is grid-connected home energy storage systems, and the other is off-grid home energy storage systems. The grid-connected home energy storage system consists of five parts, including: solar cell array, grid-connected inverter, BMS management system, battery pack, and AC load. The system adopts hybrid power supply of photovoltaic and energy storage system. When the mains is normal, the photovoltaic grid-connected system and the mains supply power to the load; when the mains is cut off, the energy storage system and the photovoltaic grid-connected system jointly supply power.
The smart home energy storage system adopts an integrated home appliance design, is exquisite and beautiful, and is easy to install. It can supply electricity for residences, public facilities, and small factories. Adopting the design concept of integrated micro-grid, it can operate in off-grid and grid-connected dual modes, and can realize seamless switching of operation modes, which greatly improves the reliability of power supply; it is equipped with a flexible and efficient management system, which can be based on grid, load, energy storage and Adjust the operation strategy of electricity price to realize the optimization of system operation and the maximization of user benefits.