The powkey R350 is a small portable power station that measures 7.87 x 6.69 x 6.69 inches and weighs 6.3 lbs. No more than 7 lbs. Any adult can easily lift it. The R350 is also very affordable and can be used for your equipment on the go Charge.
However, this compact power station will power up to eight devices simultaneously, including wireless charging, DC and AC ports. The double handles fold flat when not in use and provide a flat surface for six beverage cans. That surface is also a wireless charging pad, activated by a switch on top of the power station.
There's the R350, the power adapter and the cable with the Type-C plug, and the car charging cable in the box. However, due to environmental considerations, Powkey does not provide a Type-C charging cable in the box.
The R350 has a capacity of 296Wh, or 80,000mAh if you think about it in terms of a mobile device battery. That means it has 20 times the battery capacity of a 4,000mAh phone battery.
All of its input and output ports are located on the front of the device. There's a DC 12V port and a DC 24V port, a cable, two USB A ports with a USB Type-C port, two 110V AC outputs and a DC port in and out.
The right side edge light of the device. This light can be used for reading or ambient lighting as the LED light is fixed while having a fast blinking light or SOS mode. The operation button is very simple, press once to fix, press twice to flash quickly, press three times to flash slowly.
It has a display screen to check the power in real time and display the usage of AC and DC; when charging, the display screen has 5 LED lights, which flash when the device is charging, and remain stable when the R350 is fully charged.
When three bars light up, the charger starts at 75% charge, and when one light bar lights up, the charger goes to 25% charge. When using the PD60W power adapter, the R350 will be fully charged in 3.5 hours. Next to the indicator lights, there is a light switch and an AC switch on the right side of the unit.
The R350 has an output of over 350W – note that this battery has overload protection on it. If you try to use electrical equipment with a startup surge greater than 350W, the R350 may shut itself off to protect itself.
When you charge all your devices and use two lights, it should last about two hours. The on-board fan starts running and keeps running for 15-30 seconds to cool the unit and cycles periodically while the lights come on.
Powkey also provides solar panels to charge the R350. You can use solar panels above 40W, and Powkey solar panels are also available for purchase on the website.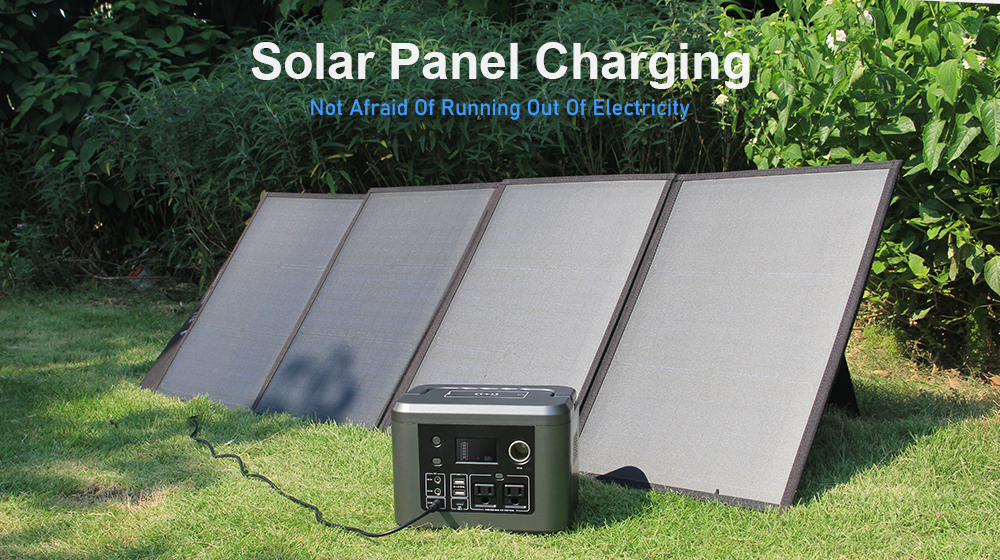 It's a useful little power station at a fairly low cost. It can charge your devices in an emergency, give you power options, and give you over 10 hours of light when you need it.