When it comes to outdoor power station, friends who know a little bit may think that outdoor power station are only used for camping in the wild. It's no wonder everyone thinks so, because the main purpose of most outdoor power station on the market is camping.
But friends who don't know it may confuse outdoor power station with mobile power station, that is, power bank. But in fact, outdoor power station are very different from charging treasures in terms of appearance and specific uses, and they are much more extensive than charging treasures.
The following summarizes the 5 major uses of outdoor power station, let's take a look at them!
1. Outdoor camping
In recent years, wild camping has become increasingly popular. In order to enjoy an exquisite camping, people have higher and higher requirements for camping equipment, and one of the most essential equipment is the outdoor power station.
Now camping in the wild, the use of open flames is generally prohibited, and an outdoor power station is especially important at this time. If you want to have a delicious meal and cook a pot of fragrant tea, you need to connect electric rice cookers, kettles, electric cooking pots and other electrical appliances to an outdoor power source before they can be used. If you still want to watch an outdoor movie at night, and you need to use the projector to connect to an outdoor power station, then you need an outdoor power station that can drive the power of the projector.
2. Emergency power station
In life, power outages occur from time to time, such as community circuit rectification, frequent electricity consumption in summer, etc. At this time, the outdoor power station can be used as an emergency power supply, so that even if there is a sudden power failure, the outdoor power station can also maintain the use of electrical appliances such as kettles, induction cookers, and electric cooking pots, and can also charge mobile phones, computers and other equipment, so that we can persist until There is a call.
3. Outdoor work
Outdoor power station play a very important role in construction engineering, geological exploration, pipeline maintenance, road maintenance and other fields.
Outdoor work is often carried out in places where there is no electricity or where it is difficult to connect wires. These places have no electricity themselves. If power supply is needed, it will take a lot of manpower and material resources, and the cost is extremely high. It is also difficult to ensure the stability of the power supply process. .
Therefore, if the power and battery capacity of the outdoor power station are large enough, it can act as a simple mobile backup power station, which can also provide a safe and stable power supply for outdoor operations. Moreover, the current outdoor power station generally supports solar charging. As long as you bring a solar panel when working outdoors, you can recharge the outdoor power station at any time under the condition of sufficient sunlight to extend the battery life.
4. Outdoor live broadcast/photography
Short video and live broadcasting have become one of the hottest industries today, and shooting locations are no longer limited to indoors. For outdoor live broadcast and photography, the most important thing is that the power of various devices must be sufficient, so as to avoid interruptions during the shooting process.
Whether it is live broadcast or photography, cameras, fill lights and other equipment must be indispensable, but it is not easy to connect to the outdoor power station. At this time, if there is an outdoor power station, it will be completely different.
The outdoor power station on the market basically has a variety of power supply methods. It can not only supply power to various photographic equipment, but also charge mobile devices such as mobile phones and computers. For example, the 600W Powkey outdoor power station has a total of 9 interfaces, including 2 USB-C ports, USB-A ports, 2 DC ports, and 2 AC ports. There is also a car charging port for 12V cars to recharge the battery. The 9 ports can be used at the same time, so there is basically no need to worry about the device being unable to connect, and it is also suitable for camping.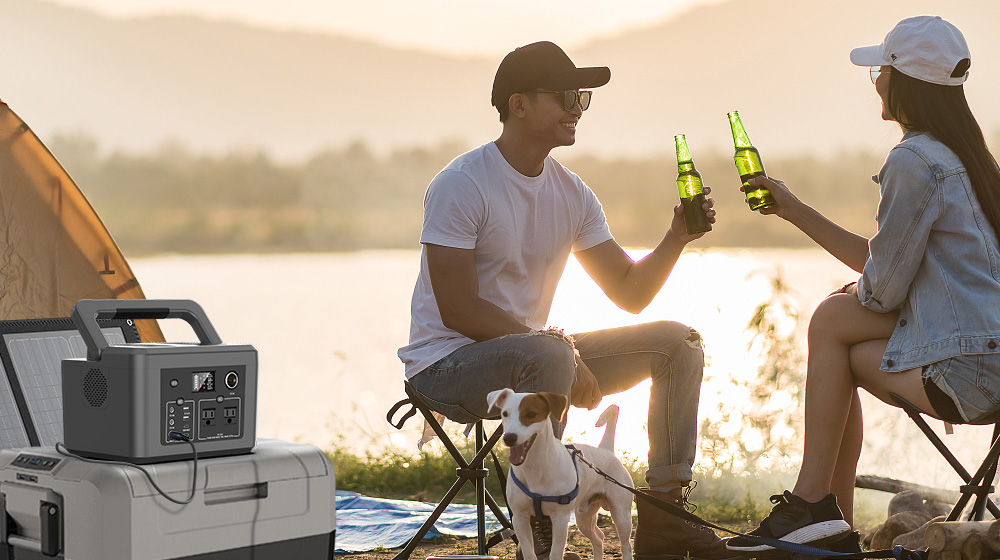 5. Medical assistance
After natural disasters such as earthquakes, tsunamis, and typhoons occur, the power supply facilities at the place of occurrence are likely to be damaged, and the use of rescue tools such as emergency lighting, fire fighting equipment, and communication equipment requires electricity to maintain. At this time, the outdoor power station It can provide continuous, stable and safe power supply.
Especially in outdoor rescue work, the convenient and easy-to-carry, high-power and large-capacity outdoor power station can be quickly put into the first-line rescue, providing reliable power support for ambulance personnel and medical equipment, and ensuring the normal operation of the machine.
The above are the most common uses of outdoor power station, of course, the practical application does not stop there. Outdoor power station are sometimes used in equipment or scenes such as car refrigerators, RVs, fishing, and street stalls. It is subtly replacing the position of traditional fuel generators and becoming the best solution for emergency power consumption!
What other uses do you think outdoor power station have? Welcome to leave a message in the comment area~