1. Outdoor live broadcast/drone photography
Short video and live broadcasting have become one of the hottest industries today, and shooting locations are no longer limited to indoors. For outdoor live broadcast and photography, the most important thing is that the power of various devices must be sufficient, so as to avoid interruptions during the shooting process. This leads to running back and forth many times. Whether it is live broadcasting or photography, cameras, fill lights, drones and other equipment must be indispensable, but outdoor power connection is not easy. At this time, an outdoor energy storage power station can fully meet the demand.
2. Outdoor activities such as camping and picnic
Outdoor activities are becoming more and more popular. In order to enjoy an exquisite outdoor activity, people have higher and higher requirements for outdoor equipment, and one of the most essential equipment is outdoor energy storage power supply. Now outdoor activities, the use of open flames is prohibited in many mountainous areas, and outdoor power station is particularly important. If you want to have a delicious meal and cook a pot of fragrant tea, you need electrical appliances such as electric rice cookers, kettles, and electric cookers.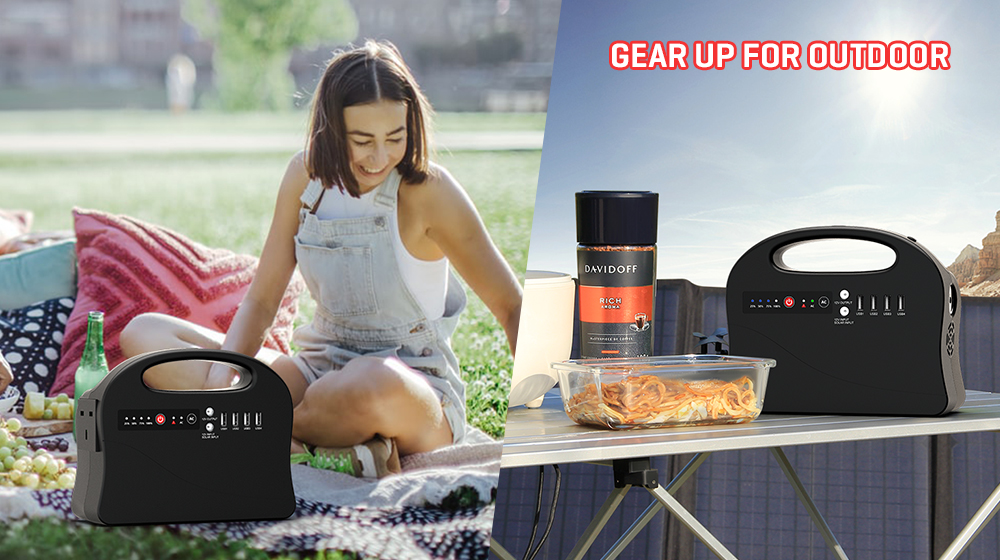 3. Medical rescue
After a natural disaster occurs, the power supply facilities at the place of occurrence are destroyed, and the use of rescue tools such as emergency lighting, fire-fighting equipment, and communication equipment requires electricity to maintain, and outdoor power station can come in handy at this time. Especially in outdoor rescue work, the convenient and easy-to-carry, high-power and large-capacity outdoor power station can be quickly put into the first-line rescue, providing reliable power support for ambulance personnel and medical equipment, and ensuring the normal operation of the machine.
4. Household emergency electricity
In our daily life, it is inevitable that there will be power outages, such as line rectification, frequent trips in summer, forgetting to pay electricity bills, etc. At this time, the outdoor energy storage power supply can be used as emergency backup power, so that even if there is a sudden power failure, the outdoor energy storage power supply can also maintain the short-term use of some basic household appliances, and can also provide mobile phones, computers, routers and other equipment powered by.
The outdoor power station has a built-in lithium-ion battery and a portable energy storage power supply that can store electric energy by itself. It is equipped with 220VAC AC, USB, DC and other output modules, which can quickly replenish power through solar energy, car chargers, etc., and can meet most electrical appliances outdoors. electricity demand.
The portable power supply easily solves the problems of outdoor eating, entertainment, and work. It has the advantages of no pollution and no open flames, and is favored by outdoor sports enthusiasts. With the price and product iteration of outdoor portable UPS power supplies, more application scenarios will be discovered, and it has a very broad market prospect.
Powkey is a manufacturer of outdoor power station. The price of the source factory is more affordable. We are still OEM/ODM. Welcome friends who are interested to leave a message and contact us. We will give you the most affordable price.