Solar panels are a new energy product that can be used outdoors at home. It absorbs the energy of the sun and converts it into the electricity that people need. However, people usually choose lighter and foldable solar panels for outdoor use, which is convenient for carrying.
This high quality, portable, waterproof 100W lightweight foldable solar kit from Powkey is designed to power vehicles and boats (e.g. 4x4s, RVs, caravans, campers, narrow boats, yachts, etc.) or any other application that uses a 12V battery (e.g. backcountry camping, off-grid, etc.). Simply unfold the panels, adjust the tilt and position them to point directly at the sun, and connect to the battery.
Some common questions about solar panels
1. Can a solar panel power a solar generator?
You can use solar panels to charge the power station, and solar generators are a great option for anyone looking to harness the sun's clean, renewable energy.
2. How to use solar panels while camping?
Solar panels can be used to charge batteries or solar generators as well as directly charge electronic devices. Some panels can be connected directly to phones or gadgets to charge them when the sun is shining (the panels have to be tilted towards the sun). On the other hand, direct sunlight can be unpredictable. The ideal would be to use a solar panel to capture energy and store it in a battery (such as a solar controller, battery pack, or charging station) and then connect the device to it.
3. Is the camping folding solar panel waterproof?
Most solar panels are waterproof or weather resistant, meaning they shouldn't be submerged in water, but can be placed outside in case of light rain. That's not to say every panel should be left on the outside all the time. Confirm with the manufacturer that the panel will meet your requirements.
4. Can a solar panel power a camping refrigerator?
A camping refrigerator can be powered by solar panels. You'll need solar panels that match your refrigerator's electricity usage, as well as a solar generator. Solar panels are a great option for using solar energy to power your refrigerator.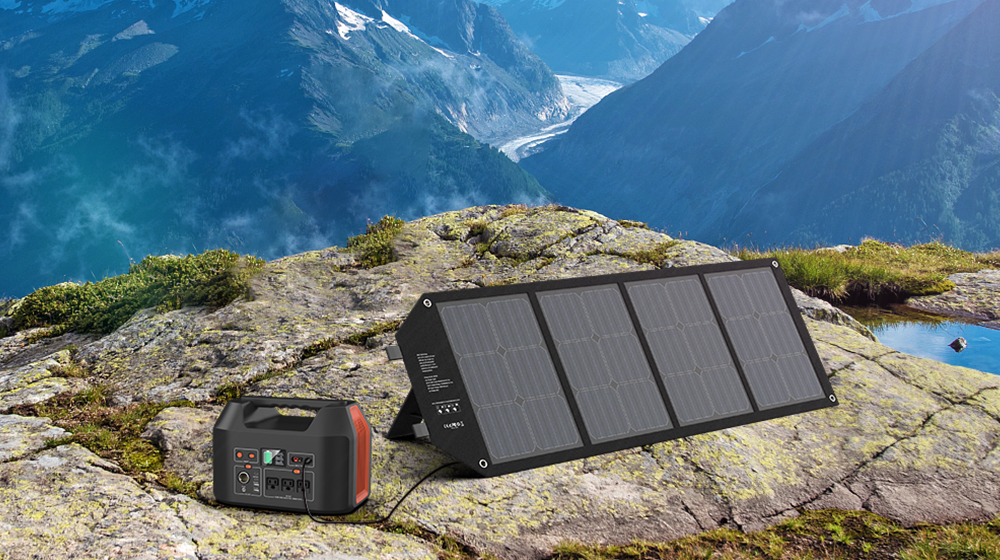 Summarize
Solar panels can charge smartphones and emergency equipment when you're off the grid, so foldable solar panels for camping can make the trip a little safer. The solar panels are absolutely silent and therefore have no environmental impact. They also use a free resource (the sun) that is available almost everywhere.
How to clean solar panels on a daily basis?
1. Use a hose to clean the folded solar panel.
2. Use a sponge, mop or squeegee to clean the panel with water. Anything on the surface of the panel can be removed in this way.
3. To remove any soap residue, hose them down again.
4. Remove any leaves or debris under the solar panels that may be obstructing airflow.
Keep in mind that sloped solar panel systems will naturally benefit from showers, while flat systems will require more frequent cleaning. Before cleaning solar panels, make sure your solar system is cool. Cleaning instructions should be found in the product documentation, as some panels allow soapy water to be used during cleaning while others do not.
Solar panels should not be cleaned with sharp or abrasive materials as they may cause damage.