Today,the small power banks that people use to charge their phones provide portable power systems,while larger systems are capable of running multiple small devices,even 12-volt refrigerator systems and small appliances.
If you need a solution that can charge not only your phone but also cameras,drones,laptops,tablets and more.Even wanted something that could be easily packed and used to fill air mattresses etc while camping.It is small,portable,reliable and easy to use.
Then you also want something with a handle – not too big – not too small – with a capacity of 300 watts,capable of charging when driven from a 12 volt adapter,and capable of being plugged in and using solar cells at home board charging.
Well,you've come to the right place,our powkey portable 300 watt generator will meet all of your needs above.
The Powkey R300 is one of the most popular products of 2022.It has a larger size of backup battery to keep your electronic products uninterrupted when outdoors.It's LED lighting has three flashing modes:always on,fast flashing,slow flashing S0S for help.When you encounter special situations outdoors ,it helps as much as possible.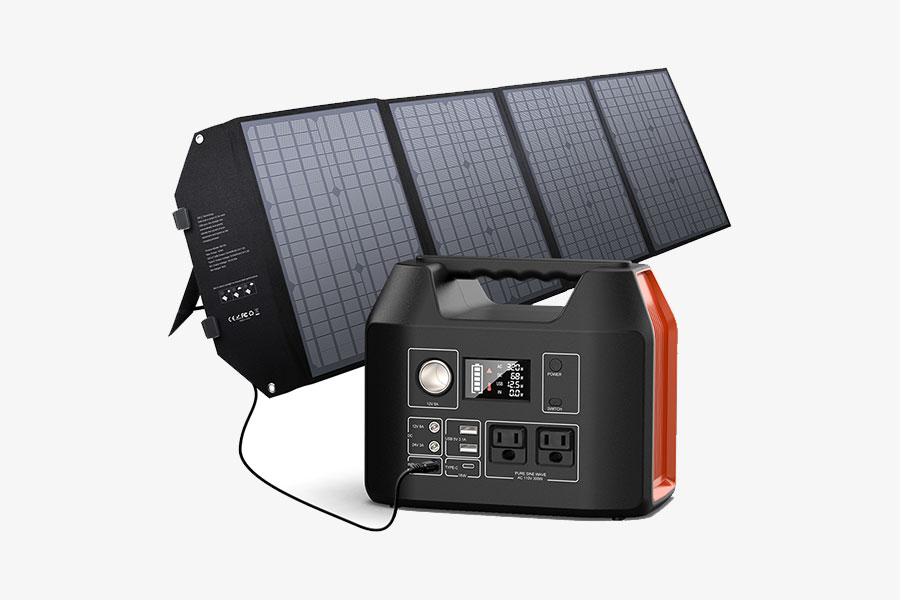 Lithium-Ion Portable Power
When out camping,want to be able to use 100% of the battery,charge as much as possible during the day and use it up at night.Compared to sealed lithium batteries,lead-acid batteries are bulkier,require a larger power size,and are cumbersome to maintain.It doesn't require a lot of electricity,as long as it is convenient,portable and quiet.That's why we study battery systems and gas generators.
The following items have been tested so far and they all work great!
Inflatable camping mattress
Tablet charging
MacBook Pro Charge (USB C Power Adapter on 110v)
Charge the drone battery
Charge the camera battery and GoPro
Run Christmas lights (if you like to light up camp/RV)
Mobile phone/tablet
In addition to power sources for camping,they also serve as backup power sources for your home.One of the most common comments is to use it as a backup power supply for a CPAP machine.
Solar Charging
The 300-watt generator includes built-in support for solar charging.You will need to buy solar panels.Powkey provides standard MC4 interface cables,we have solar panels for sale,any solar panel with an MC4 style connector will work (As well as a DC/12v power output).
12V Charging
The Powkey 300w generator includes a 12v cable for charging from a car or any 12v system.
Weather Trap
As with any battery system,cold weather reduces storage capacity.If you're camping in the winter.You'll have less charging and battery storage if the unit does get cold.