Ushering in the summer vacation of students in July, take advantage of the weekend to take your family out for an outdoor outing and feel the long-lost nature. As soon as he said he would leave, everything was ready, but he couldn't start the car no matter what. Due to not driving for a long time, the battery has lost power. If you go to an auto repair shop, this process will take too much time. So I called my friend for help to solve my urgent need. It seems that it is still necessary to keep a car jump starter at home.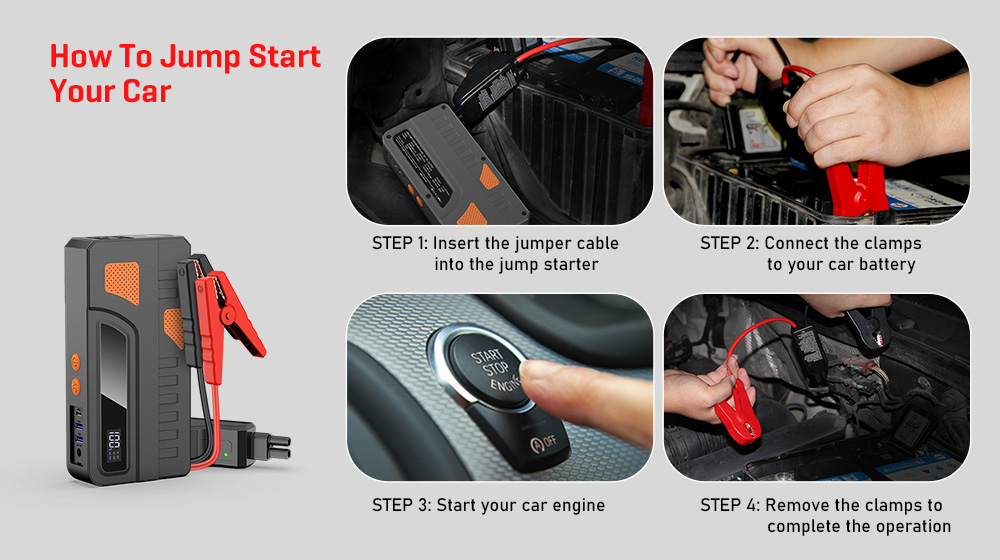 If you buy the kind of charger that is transferred to the car battery, it is too bulky and inconvenient to carry. It is better to choose a Powkey outdoor energy storage power supply, in addition to charging the car, it can also support 100-240V/50-60Hz; AC 100W output, and the application scenarios are very wide.
Product details and experience: Mr. Powkey Chu is an old brand. This time, he tailor-made an outdoor energy storage power supply for donkeys who like to travel by car. The model of this product is HP100S, the battery capacity is 18000mAh, and it supports QC3 .0 fast charging, equipped with AC/USB/USB-C/DC multi-output ports, can be adapted to a variety of electronic charging devices, and has a wide range of application scenarios. These configurations are all my favorites.
Let's take a look at the packaging of Mr. Chu's outdoor energy storage power supply first. It uses a colorful box, and there is an appearance diagram of this power supply outside, as well as related product selling points, mainly including: 18000mAh large capacity, fast charging output, multiple Charge protection, LED digital display, LED lighting, etc., and the relevant parameters of this power supply are on the side.
When you open the package, the first thing you see is the thick foam and the accessory box on top. The foam wraps the entire power supply in an all-round way and is suspended in the air, ensuring the safe transportation of the power supply. The casing of the power supply is also wrapped in a frosted plastic bag, which has a good dust-proof and moisture-proof effect.
What are the accessories? In addition to this outdoor energy storage power supply, users are also equipped with power adapters, car charging cables, car cigarette lighter conversion cables, manuals and other materials. This is positioned outdoors, car, this accessory is still very comprehensive. Next, let's take a look at the appearance and details of this Mr. Powkey outdoor energy storage power supply. It looks like a cuboid with rounded corners, which looks very round.
The shell of this power supply is made of ABS material. For outdoor use, if it is used in multiple scenes, no fingerprints will be left. The dark gray color scheme also makes it have a certain degree of dirt resistance. Of course, this color scheme is also very versatile. The size of the head and tail of this power supply is: 20010040mm, and the weight is: 0.75kg. In the ranks of outdoor power supplies, the volume is not large, and it will not be burdensome to carry a backpack when going out. Children can easily carry it lift.
This power supply is equipped with LED lighting function. In front of the power supply is its lighting device. It is composed of 4 LED lamp beads, and the total power output is about 4W. It is enough for emergency lighting at night; it also supports SOS flashing function , press the LED light button 3 times to turn it on. Although this function seems difficult, it can really save your life when it comes to outdoor travel and other scenes.
If this power supply is fully charged, how long can the lighting last? Of course, it depends on the battery capacity inside the power supply. It is understood that the built-in domestic well-known brand Parker 18650 lithium battery, the lighting time can reach more than 10 hours, which can meet the lighting needs of the whole night.
On the left side of the light is a US-standard AC interface with 100W output and 100-240V power supply. On the front is a 13V-24V DC charging port; an LCD digital display screen can display the remaining power. On the right side are 2 USB-A output ports, blue is 5V/3A, supports QC fast charging protocol, compatible with QC3.0/2.0; there is also a 5V~9V / 2A Max Type-C output port , mobile phones, notebooks and other charging are completely no problem.
On the left side of the USB, there is a smart clip interface, which has obvious positive and negative poles. The positive and negative interfaces are different. It must be inserted correctly to use. Don't worry about reverse connection, but the other end of the smart clip is connected to the battery. The positive and negative poles, still have to see clearly "+" and "-". It is also equipped with a safety door to prevent accidental electric shocks caused by accidental touches by children and insertion of foreign objects. There are so many and rich interfaces that can charge multiple devices at the same time. However, it should be noted that the total load should not exceed 100W, otherwise the power supply will be overloaded, and a series of situations such as power supply heating will easily occur. Be sure to pay attention to safety .
In addition, the model of this outdoor energy storage power supply, power input/output specifications, battery type/capacity, manufacturer information and other information are marked at the bottom, as well as various certification marks, which is very comprehensive. With this power supply, there are still many scenes for daily use. Sometimes shooting + video recording will be carried out at the same time, so two SLR batteries are not enough. In the past, an inverter was connected to the car to charge the battery. Now it's all right. With Mr. Chu's outdoor storage Power supply, charging is much more convenient.
Of course, when working outdoors, you can go out to play with your family, and you can't delay your office work. You can almost work directly with a notebook. Although the internal lithium battery can last for several hours without plugging in, but when the internal power supply is used, one is the performance, and the other is the display brightness of the screen. I dare not turn it on to the highest level, for fear that the power consumption will be too fast and the work will be delayed. A few days ago, when I went out, it was because the car had not been driven for a long time that the battery was dead and could not be started. Fortunately, I had the help of a friend to solve it. It is precisely because of this incident that I have a good reason to buy this Mr. Chu outdoor energy storage power supply. It was originally used to charge the car battery. I did not expect it to have so many uses and helped me a lot. .
Conclusion: At present, this Powkey Mr. Chu energy storage power supply has become my right-hand man. It has a large battery capacity, fast charging, rich interfaces, safety in place, exquisite design, light and easy to carry. This is my small summary of it. At present, the spring season has come, and there will be many activities such as outdoor travel and picnics. With this power supply, you will get twice the result with half the effort and bring more fun.