Energy storage: can be understood as the storage and use of energy. There are many forms of energy storage, but here I am mainly talking about energy storage in electricity (battery type energy storage);
The energy storage system is an important part of the six major components of the electricity production process "extraction – generation – transmission – distribution – use – storage". Energy storage systems can be used to move energy and promote the application of new energy sources, to build micro-grids and provide power to areas without electricity, to regulate peaks and frequencies and to improve the stability of power systems. Energy storage systems are of great strategic importance to the construction of smart grids.
The application areas of energy storage system are power generation side, user side and grid side. The latest five investment hot spots of energy storage mainly include:
1. light storage and charging rapid transit system;
2. thermal power plant energy storage and frequency regulation;
3. large independent energy storage power station;
4. communication base station backup power; 5. fire safety business of energy storage system.
Solar photovoltaic power generation can be divided into grid-connected systems and off-grid systems. The off-grid system has the presence of energy storage battery pack, which can be said to be one of the simple energy storage application modes that are now associated with the energy storage system.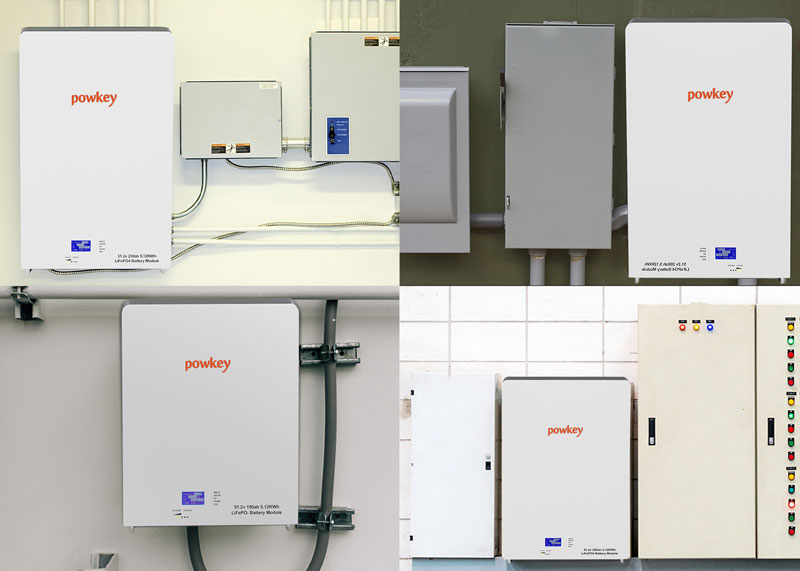 Battery type energy storage is chemical energy storage, energy storage systems used in lithium batteries are mainly: lithium iron phosphate, lithium ternary batteries, lithium manganese acid batteries. The battery has a high voltage, a wide operating temperature range, a high specific energy and efficiency, a low self-discharge rate, and a protection and equalisation circuit to improve safety and life. Therefore, the advantages and disadvantages of all kinds of batteries, lithium batteries become the first choice for energy storage power plants due to the relatively mature industry chain, safety and reliability as well as environmental friendliness.
Its main advantages are: long service life, high storage energy density, light weight, adaptability; disadvantages are poor safety, easy to explode, high cost, use conditions are restricted.
1) Lithium iron phosphate
Lithium iron phosphate battery, refers to the lithium-ion battery with lithium iron phosphate as the cathode material. Lithium-ion battery cathode materials are mainly lithium cobaltate, lithium manganate, lithium nickelate, ternary materials, lithium iron phosphate, etc.. Among them, lithium cobaltate is currently the majority of lithium-ion battery cathode materials used.
Lithium iron phosphate as a lithium power battery material is only in recent years, China developed a large-capacity lithium iron phosphate battery in 2005. Its safety performance and cycle life is other materials can not be compared, 1C charge and discharge cycle life of 2000 times. Single battery overcharge voltage of 30V does not burn, puncture does not explode. Lithium iron phosphate cathode material makes high-capacity lithium-ion batteries easier to use in series to meet the needs of frequent charging and discharging of electric vehicles.
Lithium iron phosphate has non-toxic, non-polluting, good safety performance, a wide range of raw materials, cheap, long life and other advantages, is the ideal cathode material for a new generation of lithium-ion batteries. Lithium iron phosphate batteries also have their drawbacks, for example, lithium iron phosphate cathode material vibration density is small, the volume of lithium iron phosphate batteries of equal capacity is larger than lithium cobalt acid and other lithium-ion batteries, so in the micro battery does not have the advantage.
Due to the inherent characteristics of lithium iron phosphate materials, determine its low temperature performance inferior to other cathode materials such as lithium manganate. In general, for a single cell (note that it is a single and not a battery pack, for the battery pack, the measured low temperature performance may be slightly higher, which is related to heat dissipation conditions), its capacity retention rate at 0 ℃ is about 60 ~ 70%, -10 ℃ for 40 ~ 55%, -20 ℃ for 20 ~ 40%. Such low temperature performance obviously does not meet the requirements of power supply use. Currently some manufacturers have improved the low temperature performance of lithium iron phosphate by improving the electrolyte system, improving the cathode formula, improving material performance and improving the structural design of the core.
2) Ternary lithium battery
Ternary polymer lithium battery refers to the positive electrode material using lithium nickel cobalt manganate (Li (NiCoMn) O2) ternary positive electrode material lithium battery, ternary composite positive electrode material is based on nickel salt, cobalt salt, manganese salt as raw materials, the ratio of nickel cobalt manganese can be adjusted according to actual needs, ternary materials to do the positive electrode of the battery compared to lithium cobalt acid high safety, but the voltage is too low characteristics.
Its main advantages are: good cycle performance; the disadvantage is that the use of some restrictions. However, due to the tightening of the domestic policy on ternary lithium batteries, the development of ternary lithium batteries tends to be slow.
3) Lithium manganate battery
Lithium manganate is one of the more promising lithium-ion cathode materials. Compared with traditional cathode materials such as lithium cobaltate, lithium manganate has the advantages of abundant resources, low cost, no pollution, good safety and good multiplier performance, and is an ideal cathode material for power batteries, but its poor cycling performance and electrochemical stability greatly limit its industrialization. Lithium manganate mainly includes spinel-type lithium manganate and layered lithium manganate, of which spinel-type lithium manganate has a stable structure and is easy to realize industrial production, which is the structure of all products in the market today. Lithium manganate of spinel type belongs to cubic crystal system, Fd3m space group, theoretical specific capacity is 148mAh/g, due to the three-dimensional tunneling structure, lithium ion can be reversibly de-embedded from the spinel lattice without causing the collapse of the structure, thus has excellent multiplicity performance and stability.