Household energy storage equipment is to store electrical energy and use it when needed – also known as electric energy storage products or "battery energy storage system" (BESS), hereinafter referred to as home storage. The core component of home storage is a rechargeable battery, usually a lithium-ion battery or a lead-acid battery. The other components are inverters, a control system that can intelligently control charging and discharging.
As energy storage enters ordinary households, we can realize the concept of distributed power generation, ease the power transmission pressure of the grid, and reduce the use of fossil fuels, which is a necessary decentralization measure to achieve carbon neutrality or zero neutrality.
What are the benefits of using a home storage system?
Reduce energy costs: Households generate and store electricity independently, which can greatly reduce grid electricity consumption.
Avoid peak electricity prices: Energy storage batteries can store electricity during low-peak electricity consumption periods and discharge during peak electricity consumption periods.
Realize electricity independence: the family stores solar power during the day and uses it at night, and it can also be used as a backup power supply in case of a sudden power outage.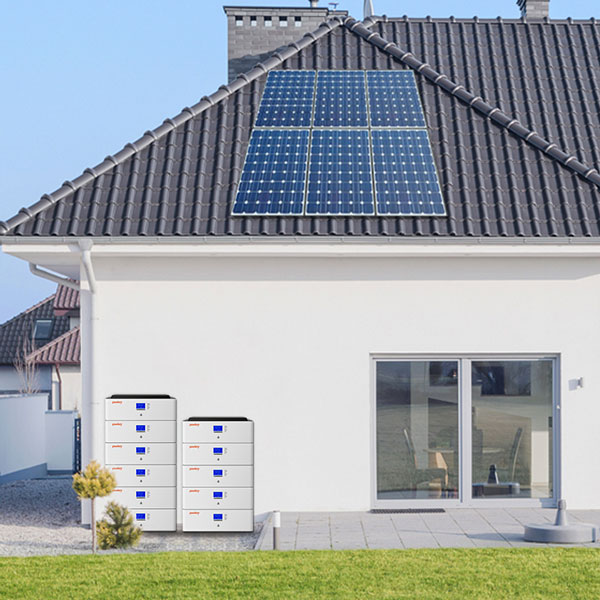 Household energy storage is usually used in conjunction with household photovoltaics, and the installed capacity has ushered in rapid growth. Home energy storage system, also known as battery energy storage system, its core is a rechargeable energy storage battery, usually based on lithium-ion or lead-acid batteries, controlled by a computer, charging and discharging under the coordination of other intelligent hardware and software cycle. Home energy storage systems can usually be combined with distributed photovoltaic power generation to form home photovoltaic storage systems. From the user's point of view, the household solar storage system can reduce the electricity bill while eliminating the adverse impact of power outages on normal life; from the perspective of the grid side, household energy storage devices that support unified scheduling can alleviate the power shortage during peak hours and provide The grid provides frequency correction.
According to the different coupling methods of photovoltaic and energy storage systems, they are divided into DC coupling system and AC coupling system, which are respectively suitable for the incremental market of newly installed photovoltaic systems and the stock market of installed photovoltaic systems. The incremental market space is larger and will be the main driving force for future market growth:
(1) Incremental market (new installation of photovoltaic + energy storage systems in target households): DC-coupled products are generally used. The DC-coupled energy storage system includes a battery system and a hybrid inverter, and the hybrid inverter has the functions of a photovoltaic grid-connected inverter and an energy storage converter. The advantage of DC coupling is that both photovoltaic and energy storage batteries are converted through hybrid inverters, and no additional installation of photovoltaic grid-connected inverters is required. The system integration is higher, installation and after-sales service are more convenient, and it is convenient for intelligent monitoring. and control. Some households that have already installed photovoltaic systems choose to remove the original photovoltaic grid-connected inverters and install new hybrid inverters.
(2) In the stock market (the target households have already installed photovoltaics and added energy storage systems), AC coupling products are generally used. It only needs to install batteries and energy storage converters, without affecting the original photovoltaic system, and the design of the energy storage system is not directly related to the photovoltaic system in principle, and can be determined according to demand. The advantage of AC coupling is high safety: in the AC coupling mode, the energy is collected at the AC end, which can be directly provided to the load or sent to the grid, or directly charged to the battery through a bidirectional converter, and low-voltage PV and low-voltage batteries can be selected , to eliminate the risk of DC high voltage in the energy storage system.