Power equipment terminology can often be confusing, with similar names but completely different products. Just like portable power stations and portable generators, people often confuse these two types of machines. The following article will introduce the differences between these two products, and solve your confusion.
Learn About Portable Generators
The portable generator is improved from the traditional generator, and it is smaller than the traditional heavy generator. It needs to start power generation by burning gasoline or other fuels, and its output is generally 1000W-20000W. The disadvantage is that it is noisy, consumes fuel, is heavy, and is not convenient to carry. Generally, there are four wheels to assist in moving. Portable generators can power homes and RVs. They are equipped with AC plugs to charge electrical appliances, but they are not suitable for powering electronic devices (such as mobile phones, laptops, electronic watches, etc.) because portable generators do not have inverters. Transformer generator.
The most important thing is that when the portable generator burns gasoline and other fuels, it will release a large amount of carbon dioxide, so it is usually not used indoors; it will also pollute the air environment. In this era of green environmental protection, portable generators Obviously run counter to it.
Learn about portable power stations
A portable power station (also known as a gas-free generator or a battery-powered inverter generator) is a device that stores electrical energy in an internal battery for later use. Depending on the power of the electrical appliances used and the capacity of the portable power station, the portable power station will run out of power after a few hours/ten hours of use.
You can understand a portable power station as a huge mobile power supply, which usually provides up to 1000 W of power, or even higher, and the larger the capacity, the larger the volume. The device is much lighter.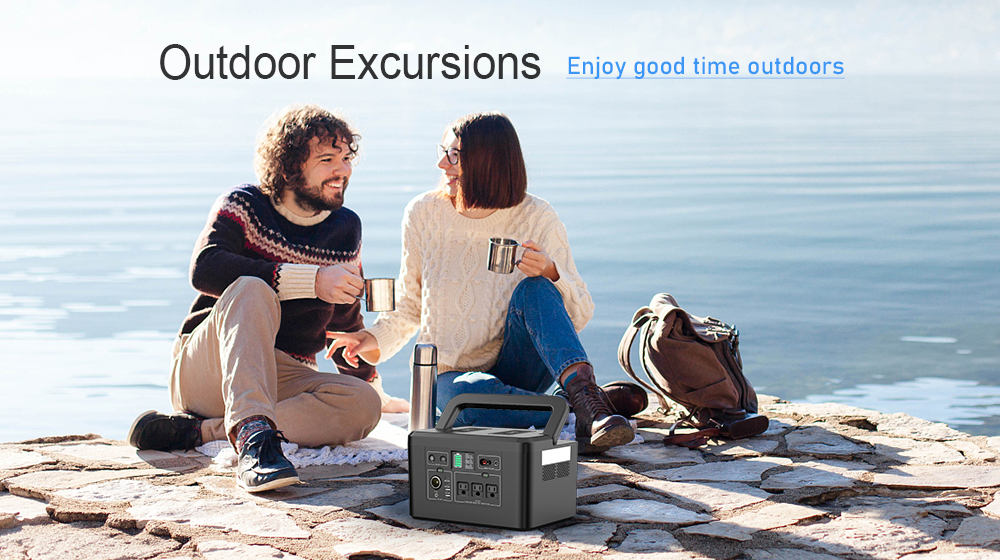 Unlike portable generators, portable power stations. Portable power stations don't burn any fuel and don't produce any carbon dioxide, which means they're safe to use indoors. As a result, they are quiet, do not pose a serious fire hazard, and require little maintenance.
Portable power stations operate by converting the battery's direct current (DC) to alternating current (AC), so it can provide power for your electronic devices, and can also power your home appliances. It is a very suitable for outdoor camping or power outages emergency equipment.
Then how do I know and choose the right one? The following is a comparison table of the two products. You can choose according to your needs.
| | | |
| --- | --- | --- |
| product | portable generator | Portable power station |
| Scenes | outdoor | indoor and outdoor |
| Electrical/Electronic Equipment | Large electrical equipment such as refrigerators, air conditioners, ovens / not suitable for sensitive electronic equipment, unless inverter | Fans, rice cookers, juicers and other small appliances / suitable for any electronic products |
| generate electricity | burning fuel | DC, car charger, solar panel |
| maintain | high cost | low cost |
| weight | quite heavy | lighter |
| noise | very noisy | not noisy |
| run | unlimited runtime | run for hours |